Econometrics offers two scenarios

If bitcoin has already bottomed out, its price in 2023 would be between $27,000 and $33,000, according to Ecoinometrics.
Emphasizes:
If the bottom hasn't been hit yet, the price range is much more modest.
Forecasts are based on previous bearish periods.
The research firm Ecoinometrics published an analysis on Monday, December 12 in which it estimates the price range of bitcoin (BTC) for 2023. To do so, it is based on the study of the monthly returns of bitcoin in the markets. former bears.
The report points out that to estimate the price of bitcoin for the future, two different scenarios need to be considered. In the first, it is estimated that the price of bitcoin has not yet bottomed out. In the second scenario, bitcoin is considered to have already bottomed out and we are in the recovery phase.


For the first scenario, we want to use the entire historical bear market distribution as a basis to simulate the future price of bitcoin. For the second scenario, we can use the historical distribution of the bear market recovery phase to simulate a recovery in the bitcoin price.

Econometrics.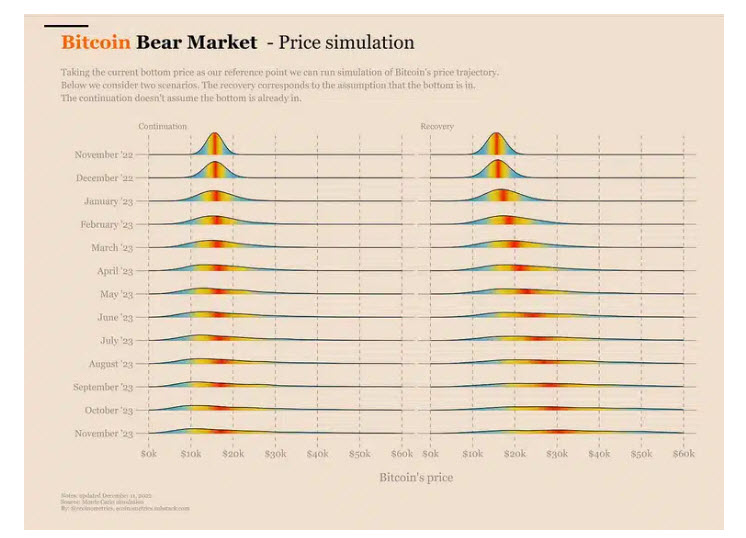 Below are the simulated price distributions, from November 2022 to November 2023, based on historical data. The left panel corresponds to the simulations assuming that the bear market will continue, while the right panel corresponds to the scenario that we have already bottomed out and the recovery begins.
Based on the history of past bear markets, the report extrapolates the most likely price range one year from now.
Assuming the bottom hasn't occurred, the $15,000 to $20,000 range is a likely range. Assuming the bottom has already occurred, the likely range is $27,000 to $33,000.

Econometrics.
Regarding the fact that price ranges are very low compared to levels over a year ago, the report said:
"Don't expect miracles in a bear market"