The flow of bitcoins from miners, both on and off the exchange, suggests that we won't see a capitulation any time soon.
Highlights:
Miners are sending fewer bitcoins, especially to exchanges.
The trend is repeated in the rest of Bitcoin addresses, not just in miners.
Miners are trading their bitcoin (BTC) at minimal prices, contrary to what one would expect in a bear market that has been going on for over a year so far.
Bitcoin network monitoring data from Glassnode shows that the flow of bitcoins from addresses associated with miners has fallen to its lowest level in the past 2 years. Specifically, at the 7-day dollar moving average, with volume just above $850,000.
This data suggests that miners are not moving the BTC obtained from their mining operations to exchange them for fiat currency, which they normally do to take profits in bull markets or to maintain their activity in bearish moments like this. current.
The trend seems to be confirmed and even take on a larger dimension by another graph from the same Glassnode: BTC deposits from miners to exchanges have fallen to their lowest level in 5 years.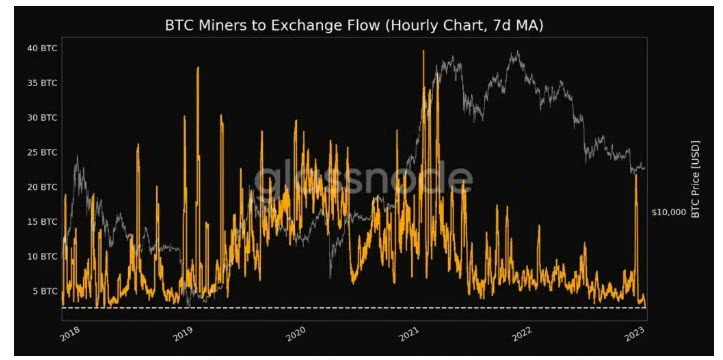 The 7-day rolling average of these deposits fell to 2,581 bitcoins, the lowest figure for the metric since February 2018. In other words, not only are they moving less BTC, but the one they are sending is not ending up in exchange. of your speculative trade.
The miner sell stream is often associated with bitcoin price drops. Unlike traders and speculators, large holdings often have to sell their BTC, even at a loss, to fund their operations. Especially in bear markets as pronounced as the current one.
General behavior on the Bitcoin network
In addition to the low rate of movement of BTC from miners, the total flow of BTC to exchanges fell to its lowest level in 2 years, even at the 7-day moving average. In other words, private users and traders have also reduced their BTC trading speed on exchanges.
This behavior can be taken as a sign that the market is preparing to break out of the downtrend and its participants are dedicated to saving and accumulating bitcoins with the aim of earning profits in the near future.
The recent hoarding trend is something we reported in CryptoNoticias this year. Accumulation measures suggest that this behavior is widespread among both small and large investors.