The price of the BNB cryptocurrency is in a price range with no clear direction, but there are previous bullish signs that hold.
After profiting from the FTX crash, the BNB cryptocurrency moved back into a previous price range, invalidating what looked like a bullish continuation.
Now, the short-term situation is not entirely clear; however, the intent to resume the long-term uptrend remains, so there is still hope for a rally to come.
At the time of this writing, BNB is trading at $295.4, losing 3.93% in the last 24 hours, but maintaining a gain of 12.82% in the last 7 days.
BNB Price Technical Analysis – Daily Chart

Today on the daily candlestick chart we see a short-term bullish setup, thanks to the higher low that price recently made.
Because of this, we are likely to see a rally in the next few hours/days.
However, the gains we can expect in the very short term will remain within a broader price range, which extends to $400, although we can say that the first strong resistance is really at $336.
If we talk about support, we can note that the price currently rests on $294. Losing this level would change the bullish scenario I expect for BNB this week.
However, the most relevant support is at $258. There we saw the price bounce four times recently.

In the weekly chart of BNB we can see a very interesting bullish scenario

After a long corrective period, in which the price bounced four times off a support at $210, BNB recently seemed to want to put this process behind it, traversing a trend line that remained intact for almost a year.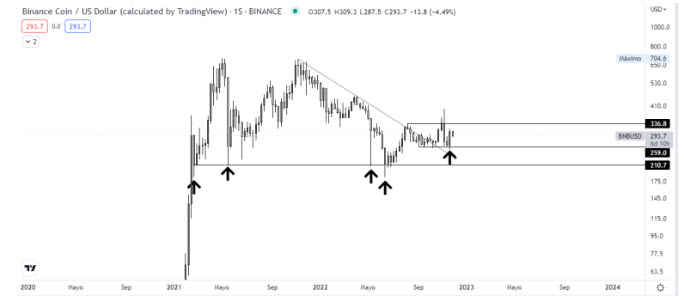 However, the FTX crash and the fear that this instilled in the crypto market seems to have postponed the rally of this cryptocurrency.
Even with what happened, BNB has resisted the turbulence with great determination, keeping the bullish scenario in force, respecting the immediate support located at $259.
If it continues like this, and then manages to break above the resistance at $336, it is very likely that we will see a significant price rally.
Otherwise, if the great support at $210 is lost, the scenario would be quite pessimistic, at least for the short term. For now there is no need to fear.