The tide has turned out after the FTX crash, and while the forecast is bullish for Bitcoin, we still cannot confirm that it has bottomed out.
Little by little, the crypto market is returning to a healthy course, leaving behind the fear caused by the collapse of FTX. Thanks to this, the Bitcoin forecast for this December 2022 is slightly hopeful, although we should wait for some confirmations to be confident enough in a bullish scenario.
At the time of this writing, BTC is trading at $16,570, accumulating a very slight gain of 0.02% in the last 7 days.
Bitcoin Forecast for December 2022
We are still far from confirming a bullish rally, but we are certainly at opportunity prices, even as we can expect more short-term selling.
It is difficult to forecast the absolute bottom of this crypto winter, but with the almost 80% drop we have been seeing from the all-time high of $69,000, the current price of $16,500 is an opportunity for those who remain confident in the fundamentals of this cryptocurrency. .
In addition to this, we are already beginning to see certain signs of exhaustion on the part of the sellers.
With the recent attempt to continue the downtrend, a divergence between the RSI and the weekly candlestick chart was created, signaling bearish weakness to further drag the price lower.
The price of Bitcoin remains above a large support zone that extends to $16,000, and although the downtrend is still intact, the exhaustion of the sales gives us a forecast of a possible important rally during this December 2022.
The EMA 8 and SMA 18 weekly moving averages remain crossed to the downside. To break through, the $21,000 resistance needs to be broken, which would be a very good sign for the short/medium term.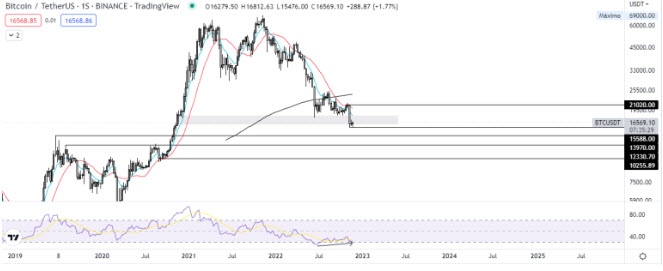 For now, it seems that at least we will see a respite, however small. The strength of that rebound will tell us if it will be to continue falling, or to wait for more purchases.
In case the bulls do not show determination, possible bearish targets would be: $14,000 and $12,330.
What to expect from Bitcoin for the next week?

The current scenario casts a good prognosis for Bitcoin in the short term.
And it is that after making a false break of the minimum at $15,900, a new divergence was created, adding probabilities for the expected rebound.
Now the objective is to break through the resistance at $16,570. Further up, the next resistance is at $17,550.
The short-term downtrend is still intact, so we should not try to jump ahead until we see resistance being broken.