The 10 largest publicly traded Bitcoin miners have liquidated almost everything they mined in this year 2022.
The main cryptocurrency, Bitcoin, has been trading on a negative trend for the past few months, prompting major cryptominers to sell almost all mined Bitcoin in 2022.
Analyst Tom Dunleavy of Blockchain research firm Messari shared a series of data on Twitter on December 26, noting that around 40,300 of the 40,700 BTC mined by crypto firms Core Scientific, Riot, Bitfarms, Cleans Park, Marathon, Hut8, HIVE, Iris Energy, Argo and Bit Digital from January 1 to November 30 were liquidated.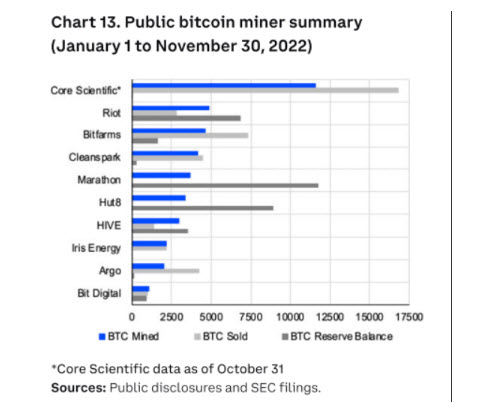 "The top 10 public Bitcoin miners mined around 40,700 BTC and sold 40,300 BTC in 2022. This represents a sustained headwind for BTC and for no other reason is good thesis to be optimistic about." Voiced by Tom Dunleavy.
It should be noted that the reserves of mining companies decreased significantly in the second half of 2022, especially during the month of November. Indeed, the crypto industry was reeling from the fallout from the FTX exchange and several major crypto lenders.
On the other hand, the recent collapse of major cryptocurrency miners, such as "Core Scientific" (CORZ), has fueled fear in the ecosystem.
But while Core Scientific's bankruptcy filing is certainly concerning, the company has specifically indicated that bankruptcy will not disrupt its operations. Additionally, Core Scientific has also signaled that it will not liquidate its Bitcoin holdings and will try to hold on for the next Bitcoin rally.
"The selling pressure created by Bitcoin miners is negligible"

According to Tom Dunleavy, miners constantly selling newly minted Bitcoin are putting strong downward pressure on the price of the major cryptocurrency. However, some industry insiders, such as former BitMEX CEO Arthur Hayes, believe that the selling pressure created by the increase in Bitcoin miner sales is "negligible".
Dunleavy recently expressed in a blog post that even if miners sold all the Bitcoin they produce daily, it would "barely affect the crypto markets."
According to data from Bitcoin Visuals, on December 26, the daily trading volume for BTC was $12.2 billion. However, the same-day sales of crypto miners amounted to $15.35 million, which is only 0.13% of the total traded volume.
In contrast, miners' reserves recovered slightly in December, rising nearly 1%. This figure contributes to the shared opinion of some experts that the situation of minors can be stabilized.
Importantly, BTC miners faced many negative events over the course of the year, with high electricity prices, falling crypto market prices, and increased mining difficulties affecting their profits more and more.
Additionally, with the cost of crypto miners rising as the price of Bitcoin falls further and further, Bitcoin mining companies have been forced to sell their reserves at a loss to fund their ongoing operations and expansion efforts. , causing BTC to fall.